Direct Deposit of your Entire Paycheck
No matter where you are on payday, your entire paycheck can be directly deposited into your Collegedale Credit Union account. To set this up, your employer will need to know your financial institution's name & routing number, your account number, and what type of account you want it deposited into (savings or checking).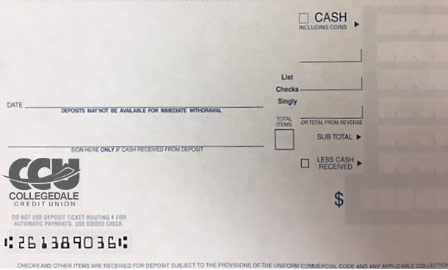 Routing numbers are unique identifiers of financial institutions. You can find a routing number on the bottom of a deposit slip or check between the colons.

On a check, the account number will follow the routing number.

Ask your employer to find out if you're eligible, and begin earning dividends immediately on your unused balance.
---
The routing number of Collegedale Credit Union is
261389036
---