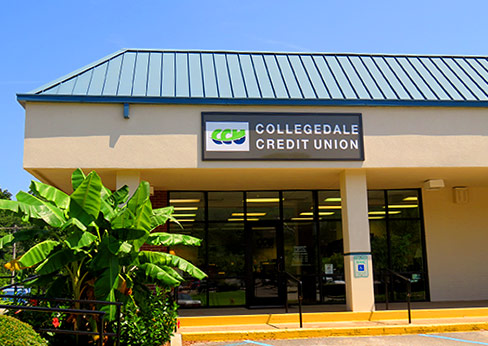 Address:
Collegedale Credit Union
P.O. Box 2098
5046 University Drive
Collegedale, TN 37315
---
Important Numbers:
Phone: 423.396.2101
Audio Response: 800.427.6269
Fax: 423.396.2702
E-mail: ccu@collegedale.org
cculending@collegedale.org
ccumemberservices@collegedale.org
Please do not sent personal / identifying information via email



---
Office Hours:
Effective October 1, 2021

LOBBY HOURS
Mon-Wed: 8:30 am – 3:30 pm
Thurs: 8:30 am – 5:30 pm
Friday: 8:30 am – 1:30 pm

DRIVE-THRU HOURS
Mon-Wed: 8:00 am – 4 pm
Thurs: 8:00 am – 6 pm
Friday: 8:00 am – 2 pm
---
After Hours Deposits:
Night Deposit Box: Located near the CCU Drive-Thru ATM Depository: Located just outside the CCU office
---
Directions:
Take I-75 North to the Ooltewah exit (#11) and turn right on Lee Highway. At the first traffic light, turn right onto Little Debbie Parkway. When Little Debbie Parkway dead ends, turn left onto Apison Pike and continue through two traffic lights and follow the road around the bend until the four-way stop. Turn right at the four-way stop onto University Drive. Go about a quarter of a mile and Collegedale Credit Union is on the left in Fleming Plaza, next to the US Post Office and Village Market.